"We acknowledge that Saskatchewan is in Treaty 2, 4, 5, 6, 8 and 10 territory, and is the traditional homeland of the Mètis"
---
Our Network is Powered by Indigenous Innovation
---
"We promote and support the sustainable economic livelihood of Saskatchewan Indigenous communities through building capacity, relationships and knowledge."
Indigenous Land Development Forum #8
The First Nations Land Management Act After 25 Years and Other Land Regimes
Moderated by Milton Tootoosis, Chair, Saskatchewan Indigenous Economic Development Network
Ty Roberts, Leonard Tipewan and Barrett Greyeyes will join us at 10am. After a break Chief Darcy Bear will join us at 2pm.
December 7, 2021
10:00am-12pm and 2pm-3pm CST
Sign up for our newsletter
Stay Connected
Cando is pleased to announce its 28th Annual National Conference to be held on May 16-19, 2022 at the Dakota Dunes Resort & Casino in Whitecap, Saskatchewan.
https://t.co/2GiUxQQi3O https://t.co/NhPtdDjWRg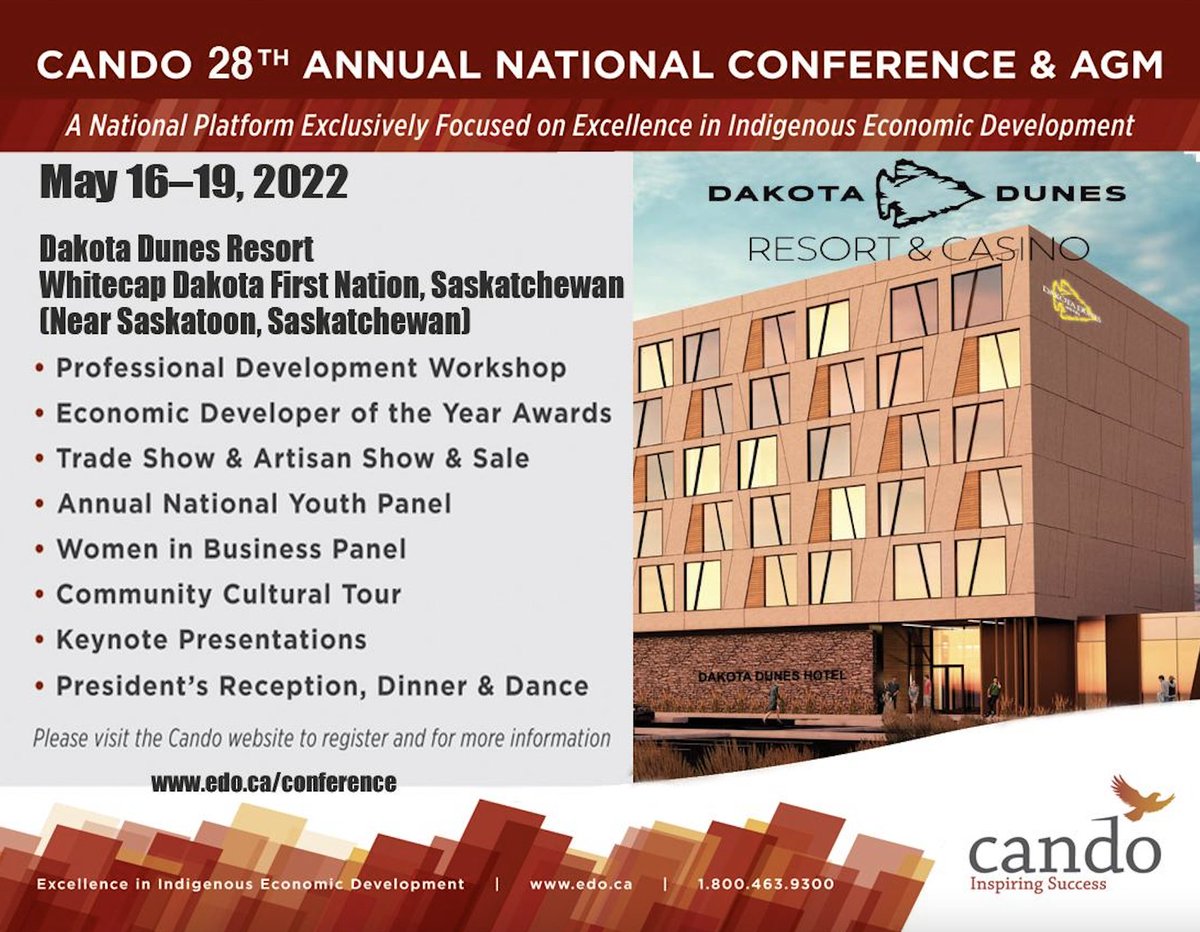 We had another great session! Leanrng about the land management experiences of Muskeg Lake, LLRIB and SALT.
Be sure to join us today at 2pm-2:45pm CST for the grand finale of our land development series, a conversation with Whitecap Dakota Chief Darcy Bear. https://t.co/xs43R34yfO https://t.co/vqTLRpL1Ds
Recent Content and Events
Land Forum Session 1 – Dr Bruneau – Saskatchewan Economic Opportunities Forecast Presentation Slides
---
Our Organization
Established in 2012 as the Saskatchewan First Nations Economic Development Network, the SFNEDN was created organically through discussions among key First Nations economic development leaders who shared common goals and a vision for First Nations economic development in Saskatchewan. These leaders felt that a centralized support organization could result in better outcomes for First Nations economic development officers and economic development corporations that generally have limited resources and networks. Over the past five years, the SFNEDN has offered research, blogs and newsletters, while delivering conferences, workshops and networking events. In 2016, the SFNEDN had the honour of hosting the World Indigenous Business Forum which earned the SFNEDN recognition throughout Canada and across the world.
The SFNEDN has assisted communities representing all Indigenous people in Saskatchewan and in 2020 the organization changed its name to the Saskatchewan Indigenous Economic Development Network (SIEDN) to reflect that work. SIEDN continues with the mandate determined by the needs of the people it serves.
Pillars
Capacity Development
Research and advocacy
networking
communication
---
Our Board
Milton Tootoosis – Chair
Bio

Milton is from the Poundmaker Cree Nation in Treaty Six Territory. Milton has over two decades experience in human resource management and aboriginal policy at the tribal, provincial and federal levels of government. His professional and personal interests enhance and build communities of collaboration with attention to building positive relationships and advancement. Milton has served on numerous committees with focused attention to skills development, creating capacity and economic independence within First Nations communities. Milton received his Bachelor of Indigenous Studies in 1985, has studied public administration and taken numerous professional development courses. He is an accredited Professional Aboriginal Economic Developer by the Council for the Advancement of Native Development Officers. He is also a student of the Native Nations Institute for Leadership, Management and Policy at the University of Arizona.
Charlotte Ross – Co-chair
Bio

Charlotte Ross is a band member of the Montreal Lake Cree Nation and has been residing in the Saskatoon area for over twenty years. She completed her formal education at the University of Saskatchewan with an undergraduate Honors degree in Native Studies and a graduate degree in Adult & Continuing Education. Charlotte was involved in academic advising, liaison communications with First Nations and strategic planning throughout her tenure at the U of S for twenty years. She has been involved in the agricultural storage industry since 2012 with her partner, Paul Sharpe, incorporating as Osihcikew Contracting Ltd. and going across SK, AB and MB to build grain storage bins with local farmers and commercial size operations. They have recently expanded their repertoire of services to include steel building construction as well as being the only representative for Olympia Steel in SK. She has two children, numerous nieces and nephews and an ever-growing circle of grandchildren
Angela Pratt
Bio

Angela Pratt is a band member of Muscowpetung Saulteaux Nation located near Regina, SK. Angela completed her Bachelor of Administration, with a concentration in Marketing, in 2005 from the University of Regina/First Nations University of Canada. Her next academic goal is to pursue the Master of Business Administration designation. Angela has been working with the First Nations since she completed her degree. Angela has worked with Raven Consortium, Touchwood/Yorkton Tribal Council Child and Family Services, Yorkton Tribal Council Executive Office, SaskTel and Muscowpetung Saulteaux Nation. Currently, she works for FHQ Developments as the Economic Development and Business Advisor and has held the position since November 2011. Angela's career aspirations have been focused on supporting the advancement and success of First Nations communities and as such, has joined the SFNEDN team as a board member. Angela is the proud mother of two boys and currently resides in Regina, SK.
Pam Spink
Bio

Pam has held senior management positions in both the United States and Australia. In the United States, she was a Program Manager for the Executive Development Center at the University of Illinois. As a senior executive in Australia working for Pacific Dunlop Ltd. (Ansell Ltd.) and Foster's Brewing Group, she did strategic planning for both domestic and international markets (the latter included Europe, the United States and New Zealand). Complementing her work experiences, she has a BA from Western University, London Ontario and a Master of Business Administration from Monash University, Melbourne, Australia. She has a long-standing interest in helping develop economic opportunities in First Nations communities.
christian boyle
Bio

Christian Boyle is the Owner and Principle Service Provider of Glyph Creative Strategy, an economic development consulting agency with a focus on tourism development. Christian has worked professionally in the tourism and economic development sectors for the past 12 years. Christian firmly believes that the key to developing a transformational tourism-based economy hinges on building high-quality experiences rooted in the stories that tie cultures to place and forging partnerships to deliver them in a meaningful way that is sustainable to land and community. Through his firm, Christian is currently leading the development of Indigenous Tourism clusters in Saskatchewan. It's a unique model that creates partnerships between Indigenous Nations, regional attractions and the supply chains that connect them.
Keith Fonstad
Bio

After graduating from the University of Saskatchewan with a major in accounting, Keith joined MNP as an articling student in 2000. In 2006 he began working with many First Nation communities providing financial statement audit services. As the relationships grew, he found himself working with community leadership and management to assist in other areas. Keith developed and taught multiple workshops on a variety of subjects including how to read financial statements while also assisting leadership and management with projects such as financial policy review, IT system back-ups, and creation of economic development entities. In 2007 he was invited to be a partner with MNP and in 2010 Keith accepted the role of Saskatchewan's Provincial Director of Aboriginal Services. He continues to work with many of Saskatchewan's First Nation communities assisting with audit and advisory services. Keith is also a current Direct of the Saskatchewan First Nation Family and Community Institute and the Rotary Club of Prince Albert and is a member of the Northern Business Task Force of the Saskatchewan Chamber of Commerce.
Heather exner-pirot
Bio

Dr. Heather Exner-Pirot is the Strategist for Outreach and indigenous Engagement with the College of Nursing at the University of Saskatchewan. She has previous appointments with the International Centre for Northern Governance and Development, the Johnson-Shoyama Graduate School of Public Policy and the University of the Arctic.
patricia crowe
Bio

Patricia Crowe is the Business Advisor, Economic Development for FHQ Developments Ltd. working with the eleven First Nations in Treaty 4 Territory. She works closely with the FHQ Business Development team to align strategic partnership opportunities that will contribute to the long-term economic independence and prosperity by developing profitable business ventures, economic development opportunities, and advancing employment and livelihood in a manner consistent with the Nehiyaw (Cree), Dakota, Nakota, Lakota, and Anishinaabe (Saulteaux) Nations teachings. .Her role as an advisor includes economic development planning, Nation and citizen engagement and she stays current on Industry trends as an active member of provincial networks. Utilizing her communications and event planning experience, Patricia is adept at organizing business and economic events and forums with a clear vision on capacity building, networking, communication and advocacy. Patricia also represents SIEDN as the Ex-officio Director with Saskatchewan Economic Development Alliance (SEDA).
your name here
We have openings on our Board. If you're interested in joining our team and working to build capacity for Indigenous communities across Saskatchewan please get in touch with us.
---